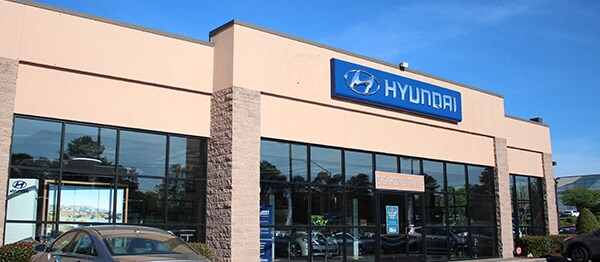 It won't take long for you to find out why Lake Norman Hyundai is considered one of the top Hyundai dealerships in central Carolina. Just step on our lot and meet one of our dedicated sales staff and you'll see why so many customers hold our dealership in such high esteem. Our sales staff values you not only as a customer, but as a neighbor as well.
Our sales staff has one purpose in mind at all times - to make the customer feel welcome. This is why Hyundai has achieved such high customer satisfaction, and leads the industry in customer loyalty. At Lake Norman Hyundai, it is our goal to get you in a vehicle that is perfect for you, a goal that has helped to make us one of the top Hyundai dealerships in the Charlotte, North Carolina region.
5 Reasons To Choose Lake Norman Hyundai

Over 700 Vehicles Available
America's Best Warranty 10-Year/100,000-Mile Powertrain Protection and Hyundai Assurance
Lake Norman Hyundai Advantage
Service Loaner Fleet that Provides Lifetime Loaners
Complimentary Car Washes, Wi-Fi, Coffee and Snacks
Lake Norman Hyundai for Cars near Charlotte, NC - Sonata, Santa Fe, Elantra and More
The variety of new, certified pre-owned and used Hyundai vehicles at Lake Norman Hyundai is one of the best selections in the Charlotte, North Carolina region. Hyundai provides a great variety of vehicles, able to meet most any needs, with a combination of reliability, sensibility, and fun.
Planning a day trip out to Lake Norman? The Hyundai Santa Fe or Santa Fe Sport can squeeze the kids and equipment in, and pull a nice little boat behind it so you can float out and drop a line in. You don't have to worry about heading out on the dirt and gravel paths, either, as the available four-wheel drive is capable of handling mild off-roading.
If you're more of a city person, spending a lot of time enjoying the entertainment and relaxation that Charlotte has to offer, Hyundai has plenty of options to fit your style. Are you quirky, youthful, with a sense of fun? The Hyundai Veloster provides a hip, urban style with flexibility that is suitable for city living.
If you're more upscale, buttoned up and businesslike, the luxury available in the Hyundai Equus is hard to match - it will fit right in with the other luxury vehicles parked outside of Del Frisco's in Charlotte. Best of all, you can sit there knowing the couple with the European sedan paid twice as much simply for a fancy nameplate.
If a little bit of driving excitement is what you're looking for, the Hyundai Genesis Coupe might not be able to keep pace with the residents of Race City USA, but unlike the multi-million dollar vehicles being tuned up in Mooresville, you won't need to find sponsors to afford it. With an available 348-horsepower V6, this is some good, old fashioned rear-wheel drive fun.
Sometimes you don't need any of these specialty vehicles - which is where the best-selling, award-winning Hyundai Elantra comes in. Winner of North American Car of the Year in 2012, this vehicle is an all-around winner. Great gas mileage, enough creature comforts and technology for the average driver, and modern styling combines in a budget-friendly package. It's a formula that has put the model in the upper echelon of compact sedans, rubbing elbows with standards of the class such as the Honda Civic, even eclipsing it in some aspects. There's a reason why you see so many on the roads around Charlotte, and why so many of them bear the badge of Lake Norman Hyundai.
Lake Norman Hyundai Service and Parts
Our service center has extended service hours, making it easy to stop in from Huntersville, Charlotte, and further out without being an inconvenience. With Hyundai models having such extensive warranties, there's no reason not to bring them in for a check-up whenever you hear a rattle or feel a vibration. We use Hyundai factory parts for our repairs, guaranteeing you don't get a knock-off brand that doesn't work quite as well with your vehicle.
If you'd rather do the work on your own, our parts department can help sort you out with certified, high quality parts. We know the Mooresville area attracts folks who are handy with a wrench, so we realize you might rather put your Hyundai up on blocks and work on it yourself. Just make sure you use Hyundai certified parts.
Lake Norman Hyundai Financing
Our financing department will make sure that you can get your new or used Hyundai into a budget where you don't have to cut back on trips out to Lake Norman. They can help figure out a financial solution - they know that every customer is an individual who has their own unique credit needs and budgetary concerns, and won't try and squeeze you in to a one-size-fits-all contract.