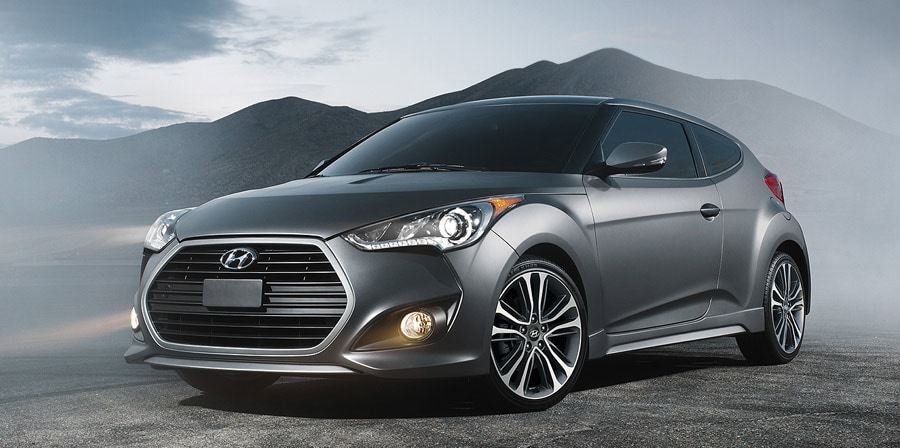 From a sporty look to impressive performance, the Hyundai Veloster is a pleasure to drive. Get to know this new model and learn about five reasons to buy a Hyundai Veloster.
Stronger Engine

The Hyundai Veloster comes with a standard 1.6-liter four-cylinder engine and 132 horsepower that provides lively acceleration and plenty of pep. The six-speed manual transmission is standard on all Veloster models, so you can keep the pace you want in any conditions. With 27 miles per gallon in the city and 35 mpg on the highway, the Veloster also offers a fuel-efficient ride. With a turning diameter of just over 34 inches, motor-driven power steering, and optional sport-tuned steering and suspension, the Veloster is pure fun to drive.
Sleek Design

All Veloster models have a distinctive look with a unibody design, heated power body color side mirrors, and chrome-tipped exhaust. Headlights with LED accents are standard, and some models also have LED tail lights and front fog lights.
As a hatchback, you'd expect the Veloster to have two front doors for passengers and a rear hatch for cargo. You'll be surprised to know that this model also has a third door on the passenger side, simplifying back seat access and cargo storage.
Impressive Tech
Hyundai's Blue Link navigation and assistance system comes standard on all Veloster models. Give voice requests to generate directions and use the system's Automatic Crash Notification or Enhanced Roadside Assistance in an emergency. Models are also equipped with Bluetooth connections and GraceNote technology that makes music requests a breeze.
Ample Safety Features

Along with looking great and being fun to drive, the Veloster also has plenty of features to keep you and your passengers safe. The Electronic Stability Control system keeps your car on the straight and narrow, adjusting engine power and applying the brakes to keep you on your intended course. The Electronic Brake-Force Distribution system keeps braking balanced on each wheel, while the Brake Assist system generates serious braking power when you need it most. With side-impact and side-curtain airbags for drivers and passengers, you can rest assured that you'll be safe.
Great Options

The Veloster is no ordinary car, and Hyundai offers three-non-standard options so you never have to settle for normal. The Veloster Turbo R-Spec has a 201-horsepower engine, sporty steering and suspension, and 18-inch alloy wheels. The Veloster Rally Edition comes with torque vectoring control, an exclusive Matte Blue hue, carbon fiber accent covers, and a B&M Racing sport shifter for the six-speed transmission. The Veloster Turbo comes with a six-speed manual transmission, a unique grille, sport seats, and a premium audio system.
To maximize your driving pleasure, Hyundai even offers a special RE:FLEX Edition. This exclusive model comes with a Gamma 1.6-liter four-cylinder engine, a six-speed EcoShift transmission, a rearview camera, and chrome hood accents.
For a hatchback that's fun to drive and boasts a sharp design, you can't beat the Hyundai Veloster. Deck yours out with optional packages and features to create the ideal Veloster for you.