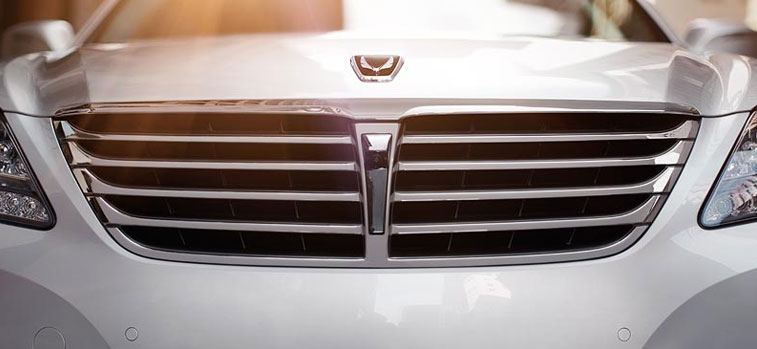 Hyundai has a reputation for being reliable and doing so at a reasonable price. While you may not necessarily automatically think "luxury" when you think about a Hyundai, the fact is that the Korean automaker has quite a bit to offer when it comes to high-end amenities.
Let's take a look at some of the luxury features of Hyundai vehicles that you can choose from today:
The usual power features. Like any luxury vehicle, a luxury Hyundai will offer the usual power windows, power locks, cruise control and air conditioning. These features are more and more becoming standard, even outside of the luxury class. Still, you can be sure you're going to get them with a Hyundai.
Heating and cooling features. Luxury Hyundai vehicles come with options such as a heated steering wheel, heated and cooled front seats, a three-zone climate control system, and more.
High-end trim. Most Hyundai vehicles can be equipped with luxury interior and trim features, such as leather upholstery and wood trim.
Premium safety features. Today's Hyundai luxury vehicles offer a wide variety of new safety technology. A rearview camera, parking sensors in both the front and the rear, an early warning system that will alert you of a potential collision. Some versions offer even more advanced cameras, such as a camera system that gives you a 360-degree view around your vehicle.
Advanced navigation technology. Today's luxury vehicles offer significantly advanced navigation systems, and Hyundai's offerings are no exception. Their navigation system includes real-time traffic information, helping you make the daily commute as efficiently as possible.
Premium audio and entertainment options. Look for USB and iPod inputs, Bluetooth connectivity for both phone and audio. These systems are managed through the vehicle's infotainment controller. For Hyundai, these systems are typically knob-driven, and won't respond to screen touches when the vehicle is moving, to help keep you safe when going down the road. Add in a 17-speaker system backed by a 598-watt Lexicon stereo, and you can begin to hear just how luxurious a Hyundai can be.
Features for rear-seat passengers. Being in a luxury vehicle should mean that everyone involved is comfortable and has plenty of options. For example, some Hyundai luxury vehicles feature reclining rear seats with power headrests. You can also get a cooled bin between the rear seats, to help store frosty beverages for long drives. The twin-screen rear entertainment system can keep everyone entertained while you focus on driving. There are even power rear side sunshades available.
Hands-free trunk opener. This is becoming more and more common as a luxury option. No one likes fumbling with their trunk key while carrying large loads, so the hands-free trunk opener offers a significant degree of convenience and a great relief from a common frustration.
Those are just some of the luxury options you'll find with Hyundai.
If we're talking about Hyundai luxury options, we'd be remiss not to specifically mention the Hyundai Equus. This vehicle offers something rarely seen: value in the premium luxury segment. The price starts out in the low-$60,000 range, making it a decidedly affordable luxury vehicle. It comes with amazing warranty and service coverage, as well as a powerful V-8 engine that will keep you going down the road in style.
If you're interested in seeing the kind of luxury options that Hyundai has to offer, take a trip to Lake Norman Hyundai. There, they can help you pick exactly the right car for your situation. Whether it's a Hyundai Equus or another model, they'll make sure you drive away satisfied.