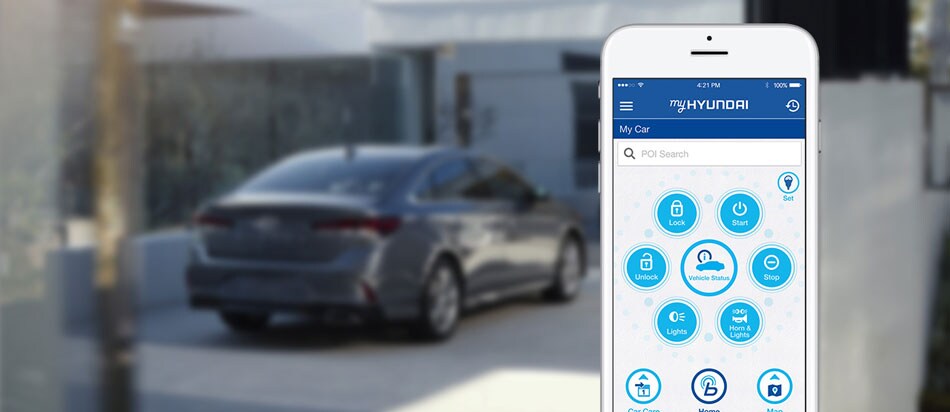 When it is time to purchase a new vehicle, you likely start researching all of the various components and technology available. If you are looking at purchasing a Hyundai vehicle, then you have probably found something called HomeLink technology as well as Blue Link technology. While these two may sound like similar technologies they do differ from one another. In fact, they connect to the different components and part of your car and each one connects to a different list of these components.
For example, at a high level, you will find that HomeLink will connect to your garage door or community gate so you can remotely open and close it from inside your vehicle. On the other side, you will find that Blue Link connects more to your safety and convenience services inside your vehicle. To give you a better idea of both of these technologies, we are going to detail them below. This will help you ensure that you get the technology and connectivity that you want in your next vehicle.
Hyundai HomeLink
For years, people have kept theyr garage door openers and codes stored in their vehicle. Now, you no longer have to keep those bulky devices if you do not want to. That is because you can use the HomeLink system that you can use to connect your garage door and your gates. Getting into your home and garage has never been easier. The vehicles that feature the HomeLink technology have buttons on the rearview mirror so you can easily reach them and use then when you want to. It is easy to program as well. You will simply follow the instructions provided in your manual or stop by our service center for help.

Hyundai Blue Link
Blue Link is a completely different system that acts as the emergecny telematics system in the vehicle. It does many things like keep track of the vehicle information and stats, help schedule services when needed, and even provide you with remote access to the vehicle with the right compatible device, a data plan, and Wi-Fi capabilities. There are three categories of services offered by Blue Link which include:
Destination Search - A technology that is powered by Google and allows you to be more connected to your location. You can search for an address or a point of interest and even send your desired location to your vehicle from your computer or phone.
Remote Access - This technology encompasses many technologies including remote start, remote lock and unlock, stolen vehicle recovery, and more. All of this is accessible through the Blue Link app which can be downloaded to your phone.
Connected Care - This brings together features such as emergency assistance, automatic collision notification, and more. It is free for one year on most new Hyundai vehicles. This technology is designed to keep you safer and more protected no matter what happens on the road.
Both of these technologies have their benefits but it is important to know the difference before you make your next vehicle purchase.